The 2020 Subaru Love Promise Community Commitment Award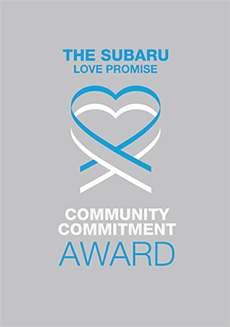 We've been nationally recognized for our dedication to our community and the Subaru Love Promise.
We're honored to receive the 2020 Subaru Love Promise Community Commitment Award. This award nationally recognizes Subaru retailers who are making the world a better place while demonstrating an outstanding commitment to supporting passions and causes in local communities. These efforts are focused in important areas such as the environment, community, health, education, and pets.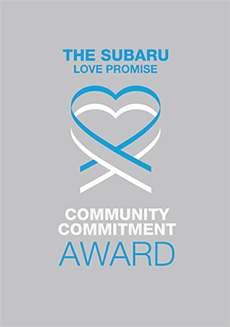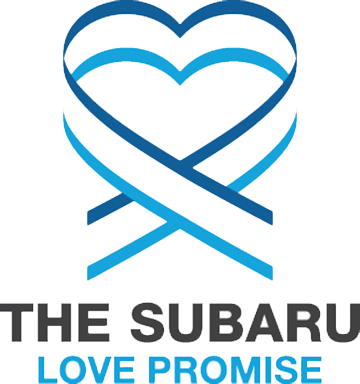 What is the Subaru Love Promise?
Subaru and our retailers believe in making the world a better place and the Subaru Love Promise is our vision of respecting all people. This is our commitment to show love and respect to our customers and to work to make a positive impact in the world.
How is Ed Shults Subaru dedicated locally to the Love Promise?
Our Love Promise can be seen in various partnerships with local charities and non-profits. We're grateful for the opportunity, not only to be a part of our community, but to serve it as well.
Humane Society-Chautauqua County
Gardeners of Weedin (GOW)
Love Promise Stories from Ed Shults Subaru
Subaru and Ed Shults Subaru believe in making a positive impact on the communities in which we live and work. We uphold that belief through our Love Promise Community Commitment. Every month, we select inspiring stories from customers and partners from around our area who strive to support our collective commitment and feature them here
Humane Society partners with Shults Subaru - Brian P
The staff at the Chautauqua County Humane Society is always excited to work with Darren Hills and the staff at Ed Shults Subaru for Subaru Loves Pets which culminates each year in a great adoption event just before Halloween. The crew at Ed Shults Subaru is always very welcoming and gives a lot of attention to the shelter pets that get to spend that afternoon at their Fluvanna Avenue location. The added bonus is all of the fun toys and give-a-ways Subaru provides for adopters. Over the years a number of pets have found their way to adoptive families because of the efforts of the folks at Ed Shults Subaru. CCHS is located just down the road from Shults Subaru and we are so happy to have such great neighbors that are so willing to support our mission.
---
Blanket Donation - Ashley K
Shults Nissan Subaru donated 80 blankets to Chautauqua Opportunities, Inc.'s Safe House in Jamestown. The blankets will be given to youth who stay in the Safe House or Transitional Independent Living Program (TILP) apartments. Many thanks to Shults Nissan Subaru for their generous donation!
---
Shults Subaru & Meals on Wheels of Jamestown Team - BARRIE Y
During the last eight years, Shults Subaru of Jamestown, Subaru of America, and Meals on Wheels America have provided nearly $100,000 to Jamestown Meals on Wheels to help provide essential home-delivered meals to homebound seniors in Chautauqua County, NY. This funding, raised through Subaru's "Share the Love," allowed Meals on Wheels to deliver more than 25,000 nutritious meals to allow seniors to remain happy and healthy in their own homes. Plus, during 2020 and the COVID-19 pandemic, funds provided by Shults, Subaru, and MOWA helped Jamestown Meals on Wheels provide daily and emergency meals to seniors throughout the community who had no other alternative for food and who hadn't had a need for Meals on Wheels services until the pandemic hit. Jamestown Meals on Wheels saw no lapse in service and remained open each day, thanks to Subaru – in fact, the program successfully delivered 10 percent more meals in 2020 than in previous years. Without funding from "Share the Love," Jamestown Meals on Wheels wouldn't have been able to react as quickly to provide essential meals – and there most likely would have been a reduction in service to some seniors as a result, at a time when providing essential food to area seniors was most critical.
---
Shults Subaru and Share the Love Make Impact - Barrie Y
Jamestown NY Meals on Wheels thanks Shults Subaru of Jamestown for supporting Meals on Wheels for the seventh time during 2018 Share the Love Event. Jamestown Meals on Wheels received a $13,166 donation, which allowed us to deliver more than 3,000 meals to needy seniors in our community. In addition, the funding allowed Jamestown Meals on Wheels to eliminate its waiting list for meal delivery for new seniors to the program – resulting in those seniors receiving home-delivered meals more quickly. In seven years, more than 17,000 meal has been served in Jamestown and Chautauqua County NY as the result of Share the Love. Helping deliver meals this year for Jamestown Meals on Wheels is Darren Hills, sales manager for Shults Subaru of Jamestown, and his daughter, MaKenzie.
---
UPMC Chautauqua - Megan B
Ed Shults Subaru has been so kind in working with UPMC Chautauqua's Cancer Treatment Center, allowing their partnership with The Leukemia and Lymphoma Society to provide blankets to the patients who are undergoing treatment. The patients of UPMC Chautauqua have been so gracious for the support and one act of kindness has gone a long way. Thank you once again for Ed Shults. Subaru and his team for continuing this promise!
---
Shults Always Caring and Sharing - Megan B
When it was brought to our attention that Shults was partnering with the Leukemia and Lymphoma Society to bring messages of hope to patients, we were excited they reached out to us, UPMC Chautauqua WCA Cancer Care Program. Shults has always been a big supporter of the hospital, but to consider our patients to ensure they received comfort and warmth during their treatment was an exceptional gift to us. Many of our patients come for treatment with the unexpected and no matter what age you are, there is always a discomfort and a feeling of being scared. While they fight their battle, they sit in an infusion chair sometimes for hours receiving their chemo and radiation. During this time, it's been a blessing for our patients to receive the comfort of not only a blanket, but the comfort knowing that Shults cares. Giving patients a continued hope in their personal journey to health is essential in their recovery. Without the help from Shults Auto Group and the kind people behind the cause at the dealership (thank you Darren Hills), we would be able to provide the comfort and care for our patients to not only have during treatment but to take home with them. In the Peanuts comics, Linus always had his blanket as a comfort everywhere he went, there's something to be said about one small token that can give the gift of comfort and hope. Thank you again Shults Auto Group for partnering with LLS, we are glad you "Loved to Care".
---
Shults' Donations Help Local Cancer Patients - Breanna S
This was the second year in a row that Shults Subaru partnered with The Leukemia & Lymphoma Society (LLS) on their month-long "Subaru Loves to Care" campaign. Sales Manager Darren Hills had the opportunity to deliver 10 arts and crafts kits and 80 blankets to patients receiving treatment at UPMC Chautauqua WCA Cancer Treatment Center. The blankets will provide warmth to patients who get cold during treatment, and the art kits can be used by any children receiving treatment or who accompany their parents or family members to oncology appointments. Shults also brought stacks of heartwarming messages written by Subaru customers, meant to inspire patients throughout their battle. Both staff and patients at the hospital were so happy and grateful that the Shults team said they can't wait for next year's Subaru Loves to Care event! LLS sincerely thanks Shults Subaru and their customers, Subaru of America, and the staff and patients at UPMC Chautauqua WCA for making this wonderful program possible. Shults Subaru especially has our gratitude for your generous gift, which will bring hope, love and warmth to cancer patients and their families throughout the community.
---
Jamestown High School's "Gardeners of Weedin"- GOW - Cheryl J
Darren Hills the sales manager at Subaru 46 partnered with JHS and donated gardening items from the National Wildlife Foundation. We planted several perennials that we received. We also placed the bird bath and bird houses in front of the high school. When the flowers are in mid bloom we will deliver them to the Fenton Park Nursing Home. This is a very rewarding experience for the students and a great way for them to give back to their community. Their way to.. pay it forward. Flowers that we delivered to the Fenton Park Nursing Home.
---
Subaru Helps Senior Shut-in Get Food - Barrie Y
Fifty-eight-year-old Leslie Priest of Mayville, NY, can thank Shults Subaru and Subaru of America for the two home-delivered meals he receives each day from Meals on Wheels of the Jamestown Area. Mr. Pierce, who is home-bound, is awaiting an essential brain operation that will help him return to a more normal life. His deteriorating health forces him to remain at home and use countless numbers of oxygen tanks in order to breath better. But he also gets Meals on Wheels each day that allows him to get the nutrition he needs. Jamestown Meals on Wheels has partnered with Shults Subaru and Subaru of America to promote "Share the Love," an opportunity for Meals on Wheels and Subaru to show communities the value of Meals on Wheels locally. By federal regulations, Mr. Priest doesn't qualify for federally-subsidized meal delivery from Meals on Wheels – he's too young. "Thanks to the effort that Shults Subaru in Jamestown and Subaru of America have made, we can feed Mr. Priest," said Barrie Yochim, Meals on Wheels executive director. "We wouldn't be able to get him any food, let alone give him the opportunity to stay in his own home or receive a daily visit." Because of his medical concerns, Mr. Pierce is a very private individual – not wanting to have the outside world see him on a regular, nor even on an infrequent, basis. But because of Meals on Wheels, and the funding that Subaru has provided for his meal delivery, Mr. Pierce can remain safely in his home.
---
Subaru Loves Learning Book Drive - August 1-31 - Molly M
Join us in our Subaru Loves Learning initiative during the month of August! We are partnering with the American Association for the Advancement of Science (AAAS) in donating science books. All of the books that will be donated have been recognized by AAAS as some of the best science books in their field.
---